February marks the start of the Year of the Tiger in the Chinese calendar, and we need to raise $510,000 for Sumatran tiger conservation. With less than 400 remaining in the wild, if we don't act now, they will almost certainly be extinct by the next Year of the Tiger, just twelve years from now.
We need your help to protect a quarter of the world's remaining Sumatran tigers who live within West Sumatra and urgently need a dedicated team to protect them from poaching, snares and poisoning. Your donation will fund a new Wildlife Ranger team who will patrol the forest, destroy snares, and work with the community to protect this crucial population of tigers and their habitat.
We've been rescuing and protecting tigers across Sumatra for years in regions such as the Leuser Ecosystem and the Bukit Tigapuluh Ecosystem, employing 60 rangers per year. We currently protect over 770,000 acres of habitat and 125 wild Sumatran tigers - your support of this new team of rangers in West Sumatra will make a significant difference to tiger numbers across Sumatra.
Donate Now

Become a Tiger Guardian Today. Your donation will help secure the future of the Sumatran tiger today - and beyond the next Year of the Tiger. Donate now

Start a Fundraiser

Born in the Year of the Tiger? Set up a fundraiser and help raise funds for tiger conservation - even if you're not born in the Year of the Tiger! Find out more
Twelve years ago in 2010, global efforts were put in place to protect tigers and halt their slide into extinction. Tiger numbers rebounded in some regions, but in others, they've continued to decline.
In Sumatra, the most Critically Endangered tiger is barely holding out. There are less than 400 tigers where there used to be thousands. They're clinging to survival as their forests are cut down, reducing their home range and their food sources. As poachers trap them in snares, crippling or killing them outright. As people retaliate with poison when their livestock is attacked or a tiger comes too close to their village.
The threats to this Critically Endangered species are numerous, but there are solutions - and we're on the frontline, working hard every day to protect tigers from these threats. Funding the new patrol team in West Sumatra is the most important action we're taking this year to save Sumatran tigers.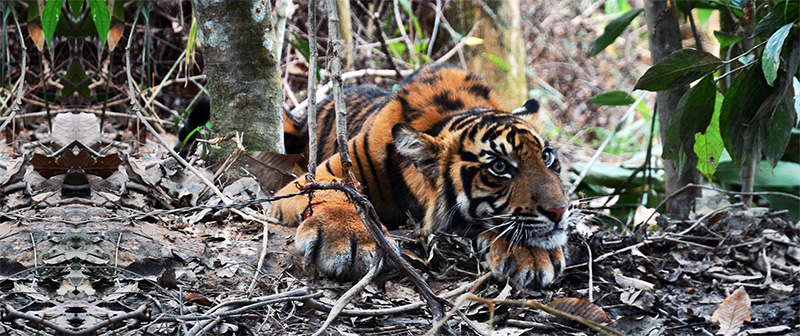 This is the last Year of the Tiger that we can realistically save Sumatran tigers from extinction. In fact, scientists estimate we have less than ten years to save the majestic Sumatran tiger from Extinction. We don't even have twelve years.
In 2034, the next Year of the Tiger, we want to say we've saved this subspecies, that they're recovering and their numbers are increasing. But we can only get there with support from people like you. People who love tigers.
We're doing all that we can - but we need more help. We need more boots on the ground, more rangers patrolling, and more protection of the forest. We need more funds for rangers to dismantle snares, for rescuers to save tigers from traps, for vets to tend wounded tigers. We can only do this with additional funding - and that's where you, our dedicated Tiger Guardians, can be the difference.
There's a long way to go before we can say we've saved the Sumatran tiger from Extinction. With your support, we can secure their future.
Please help make this the best Year of the Sumatran Tiger.
Donate Now

Become a Tiger Guardian Today. Your donation will help secure the future of the Sumatran tiger today - and beyond the next Year of the Tiger. Donate now

Start a Fundraiser

Born in the Year of the Tiger? Set up a fundraiser and help raise funds for tiger conservation - even if you're not born in the Year of the Tiger! Find out more