Concerning news from Sumatra
Our ground partner, Frankfurt Zoological Society (FZS), has recently reported a number of incidents of human-tiger conflict in the Bukit Tigapuluh Ecosystem. These kinds of attacks are rare in this region, and the team suspects this is because tigers are going hungry and are venturing out into areas dominated by humans.
The cause might be African Swine Fever, a highly lethal disease of wild boar and domestic pigs. Wild boar are one of the key food sources for Sumatran tigers, so as wild boar numbers plummet, tigers look further afield for food. This is yet another example of how human encroachment on wild animals can have unintended and devastating consequences.
The initial information of tiger attacks on livestock was provided by local farmers to the FZS Ecosystem Monitoring Unit (EMU). They had discovered cow carcasses and determined they were killed by tigers. The investigation team started a tracking operation to screen the surrounding area of the tiger attacks and to find more evidence.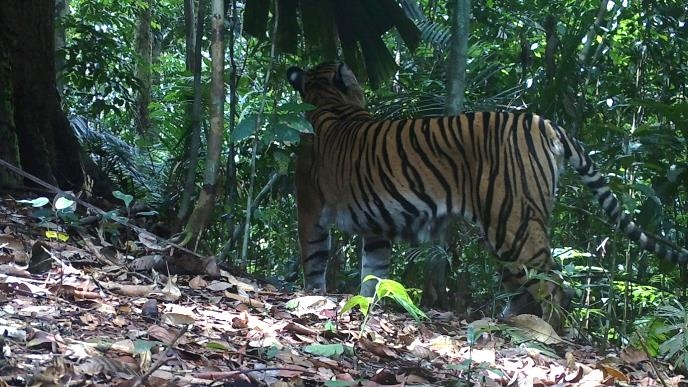 The team found a tiger's footprint in the area where a lot of tiger tracks had been found recently. They then installed two camera traps in the forest to provide further opportunity to gather evidence of tigers in the area. Photos from the camera trap revealed a male Sumatran tiger (pictured above), which had also been photographed by camera traps in another part of the forest from October to December 2020.
In addition, the team received the sad news that the body of a man had been found in Pemayungan Village inside the protected forest. There was clear evidence, including Sumatran tiger excrement and other traces, that the man had been killed by a tiger.
Community outreach to mitigate human-tiger conflict
Part of the joint operations between the Bukit Tigapuluh National Park authorities and FZS was to collectively deliver a community outreach program to villagers. This included distributing posters to the villagers affected by the tiger attacks, with the messages focusing on 'Preventing Conflict between Tigers and Livestock' and 'Signs of Presence of Animals'. This information and the relationships the teams build with villagers are crucial for reducing further conflict between humans and tigers.
The work the EMU team carries out is incredibly important and is one of the most important ways we can save the Critically Endangered Sumatran tiger from extinction. Without their careful research, camera trap images, and outreach with local communities, the Sumatran tiger would face even greater risks than it already does.
Below you can see photos of the tiger's pawprint, the cow killed by a tiger, and rangers handing a poster about tiger conservation to a local farmer.
You can help support this vital work with a donation today.